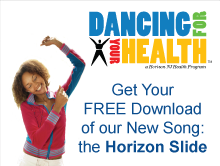 It's time to move it left, do it right, and drop it with the Horizon Slide! There's a new dance in town.
This fun new song and dance was created by Horizon NJ Health with you in mind. As part of our Dancing for Your Health™ program, we'll teach you the words, show you the steps, and let your body take it from there!
Dancing for Your Health shows people of all ages how to use dance as a fun, no-cost form of exercise. You'll be the hit of the next party while getting healthier!
Look for Horizon Slide lessons and demonstrations at Horizon NJ Health community events.